Columbia, MD
Overview: Columbia, which was developed with the intention of enhancing the quality of life of residents, has been consistently ranked in the top 10 of CNN Money's Best Places to Live in America. It is the second wealthiest community in the United States, according to the 2013 U.S. Census Bureau.
Community: Columbia is made up of 10 self-contained villages. Each village has several neighborhoods and may have a middle and high school in their center. All villages have a shopping center, recreational facilities, a community center, a system of bike/walking paths, and homes. Single-family homes, townhomes, condominiums, and apartments are found in most of the town's neighborhoods. Man-made Lake Kittamaqundi and the large regional mall, The Mall in Columbia, make up the centerpiece of the community. The Mall in Columbia has more than 200 stores and restaurants and a multiplex movie theater for residents and visitors to enjoy.
Location: Columbia is located in Howard County, between Baltimore and Washington, DC. The Columbia Town Center is located off of Little Patuxent Parkway. Howard Community College is located near Columbia's town center. The University of Phoenix, American Career Institute, Lincoln College of Technology, Loyola University Maryland, University of Maryland, Baltimore County, Maryland University of Integrative Health, and Johns Hopkins University have facilities on the east side of town at Columbia Gateway Business Park. Major roads in the area are MD Routes 29, 32, 175, and 108.
Our Columbia Office Info:
RE/MAX 100 - Columbia
10440 Little Patuxent Pkwy. #100
Columbia, MD 21044
Main Phone: 410-730-6100
Crown, MD
Overview: Crown is a modern, fashionable, 182-acre development in southern Gaithersburg. This urban center has world-class restaurants, beautiful real estate, and a wide range of entertainment options.
Community: Crown was created for the purpose of providing local residents with vibrant cultural hub with walkable access to parks, shopping, dining, fitness centers and public transportation. The development is divided into four distinct neighborhoods: Downtown, West, Central, and East. Each neighborhood has its own unique appeal, but they are united by Crown's signature elegance.
Location: Located within the city limits of Gaithersburg, Crown is adjacent to the renowned Life Sciences Center, making it part of the country's premiere science and technology corridors; it is just over a mile from the Universities at Shady Grove, with top schools like John Hopkins and the University of Maryland; and it is seconds from I-270 and the InterCounty Connector, putting DC, Baltimore and Frederick within a convenient drive.
Crown Office Info:
RE/MAX Realty Group - Crown
9711 Washingtonian Boulevard STE160
Gaithersburg, MD 20878
Main Phone: 301-921-4500
Dunkirk, MD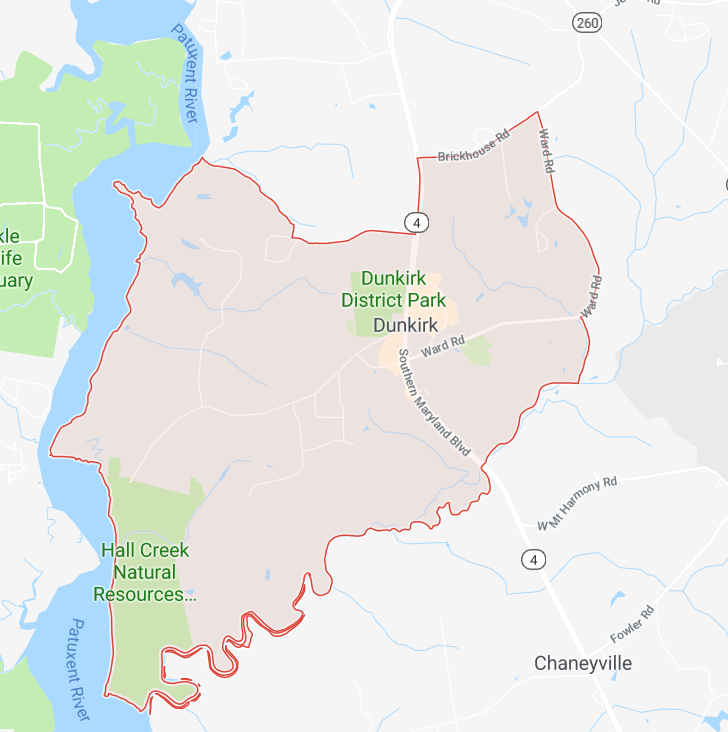 Overview: Dunkirk MD is a small, welcoming community in Calvert County along the Pawtuxent River with a population of about 3,000 residents.
Community: Dunkirk offers an ideal combination of convenience and privacy. This lovely community has several small neighborhoods in close proximity to shopping, parks, restaurants and more. District Park is a large public park with athletic fields, basketball and tennis courts, playgrounds, walking paths, and a skatepark. Apple Greene is a popular local shopping area with both national retailers and local boutiques and restaurants.
Location: Dunkirk is located along Route 4 which allows for convenient travel north and south. The shores of the Chesapeake Bay are about 7 miles east of Dunkirk. Neighborhing communities include: Chaneyville, Bristol, Friendship, and Ownings.
Dunkirk Office Info:
RE/MAX 100 - Dunkirk
10425 Southern Maryland Boulevard
Dunkirk, MD 20754
Main Phone: 301-855-8600
Gaithersburg, MD
Overview: Gaithersburg is the fourth largest city in Maryland with just over 67,000 residents. It is home to an excitingly diverse population and warm, welcoming neighborhoods.
Location: Gaithersburg is ideally situated for commuters with I-270 bisecting the city, the terminus for Metro's Red Line, a train station, bus transfer station, and two park-and-ride lots. The main thoroughfare in Gaithersburg is Route 355, which runs directly into Washington, DC.
Community: In the 21st century Gaithersburg continues to grow while retaining many of the qualities of a small town that cherishes its rich, diverse heritage. The residents of Gaithersburg are very active in the community and the local restaurant and music scenes are excellent.
Gaithersburg Office Info:
RE/MAX Realty Group - Gaithersburg
6 Montgomery Village Avenue
STE200
Gaithersburg, MD 20879
Main Phone: 301-258-7757
Lexington Park, MD
Overview: Lexington Park and California are neighboring communities in Southern Maryland and offer residents plenty to explore. They are both just a short distance away from several schools and universities, shopping centers and the popular weekend resort town of Solomons, Maryland.
Community: Lexington Park, which was created in 1943 with the establishment of the Patuxent Naval Air Station, has a rich history. Residents enjoy the convenience of nearby department stores and shopping centers along Maryland Highway 235. There are also plenty of historical sites for them to explore such as the United States Colored Troops Memorial Statue located in Lexington Park and the Historic St. Mary's City, which is recognized as the birthplace of religious freedom in America.
Location: California and Lexington Park are both in St. Mary's County in Southern Maryland. Major roads in the area include MD Routes 5, 235, 237, 246 and 712. Lexington Park is seven miles north of St. Mary's College of Maryland, which is one of two public honors colleges in the nation, and is 20 minutes away from the merchant marine academy known as Paul Hall Center for Maritime. California and Lexington Park are also both less than a 25-minute drive from the popular weekend resort town of Solomons, Maryland.
> Real Estate in LexingtonPark MD
Lexington Office Info:
RE/MAX 100 - PAX River
22326 Exploration Park Drive
Lexington Park, MD 20653
Main Phone: 301-863-5355
Mechanicsville/Leonardtown, MD
Overview: Mechanicsville and Leonardtown are both small charming communities in St. Mary County, Maryland. Leonardtown has a rich history and offers residents and visitors plenty of historical sites to explore. Both Leonardtown and Mechanicsville have many small businesses to go shopping and restaurants to suit any palate.
Community: Mechanicsville and Leonardtown are quaint communities about a 20 minute drive apart. Mechanicsville is adjacent to the community of Charlotte Hall, which is recognized for its agriculture, Amish population, large farmer's market and the Maryland Veterans Home. Leonardtown has over 300 years of history and has plenty of historical sites including one of the few intact downtown squares in Maryland today.
Location: Mechanicsville is located near Maryland Route 5 and 235. It is 10 miles southwest of Calvert County Cultural Arts and 13 miles southeast of Laurel Springs Regional Park, which has a playground with an emphasis on special needs play, two small picnic pavilions and several athletic fields. Leonardtown, which is about 12 miles away from Mechanicsville, is also located near Maryland Route 5, 243 and 245.
> Real Estate in Leonardtown & Mechanicsville
Leonardtown Office Info:
RE/MAX 100 - Leonardtown
P.O. Box 254 22845 Washington St. Ste E
Leonardtown, MD 20650
Main Phone: 301-884-9493
White Plains, MD
Overview: White Plains is a small community in Southern Maryland with an array of indoor and outdoor entertainment. White Plains is located in Charles County, which is considered part of the Washington Metropolitan Area.
Community: White Plains is an unincorporated community in Charles County with plenty to offer, including a 15,000 square foot concrete skate park, shopping, dining and a Regional Park with an 18-hole golf course, lighted tennis courts, tot lot and playground, and a dog park. A 13-mile paved trail known as the Indian Head Rail Trail is also located in White Plains. The trail connects White Plains to the small town of Indian Head and offers a natural and peaceful outdoor experience to cyclists, hikers and nature enthusiasts.
Location: White Plains is located in Charles County, south of Waldorf, which is the home of the Dr. Samuel Mudd House & Museum and the stadium for the professional baseball team known as the Southern Maryland Blue Crabs. Major roads in the area include Maryland Route 5, 301 and 227. Our White Plains office serves both Charles County and Prince George's County.
White Plains Office Info:
RE/MAX 100 - White Plains
10665 Stanhaven Place #300
White Plains, MD 20695
Springfield, VA
nd certificates.
Location: Springfield, which is in Fairfax County, is dominated by the interchange of I-95, I-395 and the Capital Beltway (I-495), known as the Springfield Interchange. Washington, D.C. is about a 14-mile drive northeast from Springfield, making it convenient and easy to work in the city and live in the suburb.
> Real Estate in Springfield VA
Springfield Office Info:
RE/MAX 100 - Springfield
5501 Backlick Road
Springfield, VA 22151
Main Phone: 703-642-3380